Sales Resources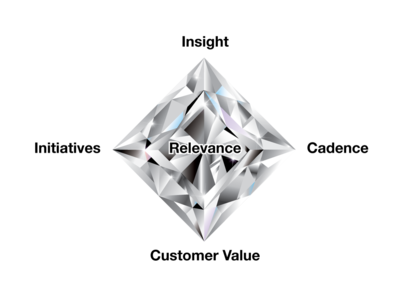 The Beyond 19 Diamond Model®, a sales and customer engagement framework, is a structured way of thinking and operating, to achieve sales objectives and ultimately make peoples' jobs easier and more rewarding.

It's a framework that can guide an entire organisation, from CEO down to all customer-facing employees, to adjust their behaviours in ways that benefit their customers, and importantly achieve better results for their own company.
The Diamond Model® was the result of "cracking the code" on why high performance B2B sales people achieved remarkable and consistent top-line revenue and profit results. Its development was based on years of insight while working with high performance sales people, and understanding the way high performance sales people think and act. This development of the Model spanned 20+ years, and more lately has seen us working very closely with more than 100 companies, across 300 sales teams.
The engagement framework at its core highlights: Insight, Initiatives, Customer Value and Cadence (rhythm, discipline, planning & priority). Each of these represents one point of the Diamond - with the overarching element of Relevancy.
"I realised that we needed to do something different to meet our growth targets. When Beyond 19 showed us the Diamond, I saw potential. It didn't take long; one extraordinary result was that we won a $70M deal that otherwise would never have been on our radar."
Robert Ford, Regional Executive, National Australia Bank, Major Client Group
ASK YOURSELF THESE QUESTIONS...
Are you challenged by growth or revenue targets?
Do your people dependably construct a value proposition that the customer understands and believes?
Do your sales people have varying levels of success?
Do you have a framework for discussing performance issues with your people?
Do you have a framework to coach to?
Do you always achieve maximum margin performance?
Would you benefit from having simplified behavioral data to use as a basis for coaching?
Example of Diamond Assessments
Sales Person
Manager
Internal Sales Links
Example of a report
Sales Person
Sales Manager
Internal Sales

Example of Actions
Sales Person
Sales Manager
Internal Sales
Blogs